Pet friendly hotels near me. Here's what you need to know to find the best.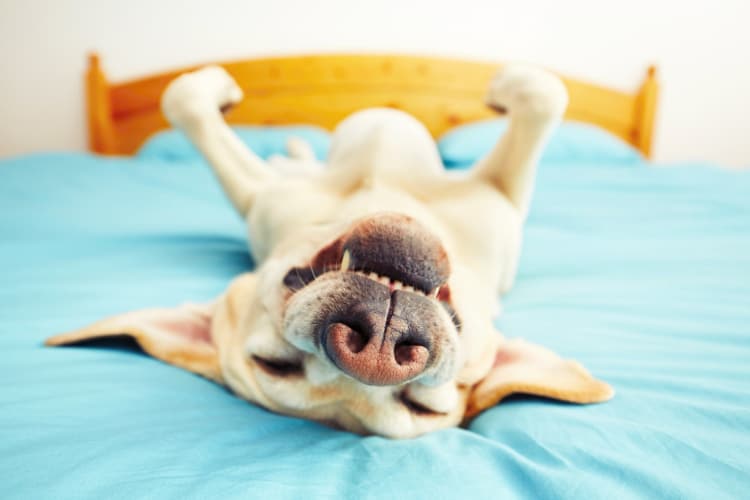 Pet-Friendly Hotels Near Me? Everything You Need to Know
Did you know that 49% of Americans bought or adopted a new pet in 2020?
Whether you have a "pandemic" pet or you've been a long-time pet owner, no doubt you've loved the extra time you got to spend with your furry family member. Now that things are inching back to normal, you're probably eager to get on the road and take a well-deserved vacation.
The question is: What will you do with your beloved dog or cat? How easy is it to bring them along on your next family vacation?
You're in luck. If you search for "pet-friendly hotels near me," you'll learn that 75% of US hotels consider themselves pet-friendly!
Of course, the definition of "pet-friendly" varies. There's a big difference between a hotel that merely accepts dogs and a hotel that offers lavish amenities to furry guests. There's also a wide range of rules, fees, and small print to consider before you make your reservation.
In this ultimate guide, we'll tell you everything you need to know about finding the best hotels that allow dogs. Keep reading!
Questions to Ask Hotels That Allow Dogs
Before we discuss specific hotel chains or brands, let's make sure you know how to narrow the selection to the best choice for you and your pup.
To accomplish this, you'll need to do more than browse a few listings. Here are six important questions to ask before you agree to book a room.
1. What Is Your Hotel's Pet Policy?
This may seem obvious, but you can't always trust what you read online. New hotels owners come in and policies get updated, but those changes don't always make it onto the hotel's website.
If you're booking through a third-party travel site, it's even more important to verify the current pet policies. The hotel may have updated their policy on hotels.com, for example, but forgot to make changes to their booking.com profile.
To avoid any confusion or misunderstandings, it's best to call or email the hotel directly before you make your reservation. This is also the perfect time to ask for additional details like the ones listed below.
2. Are There Any Weight or Breed Restrictions?
"Pet-friendly" almost always means dogs, but (sadly) it doesn't always mean cats are welcome. It's even less likely to include exotic species like birds, snakes, rabbits, etc. Whatever species you're traveling with, make sure they're allowed at the hotel.
Next, you'll want to ask if there are any restrictions as far as breed, weight, or the number of pets. Many hotels that allow dogs only allow dogs up to a certain weight. If there's a 20-pound weight limit and you arrive with your 100-pound Bernese Mountain Dog, you might have a problem.
Bonus tip: If your pet is only a few pounds above the accepted weight limit, you can ask if the hotel will make an exception. Often you'll find there's some wiggle room, especially if there are a lot of hotels competing for business in the area. Just be sure to jot down the person's name who gave you the green light, just in case there are any questions when you arrive at check-in.
Some hotels may also place restrictions on certain breeds that are (often mislabeled as) "aggressive" or "dangerous." No matter how friendly your pit bull or Rottweiler might be, if his breed appears on the hotel's restricted list, you'll have to seek accommodation elsewhere.
Finally, if you're traveling with two or more pets, make sure the hotel allows multiple animals in the same room. Some hotels have a strict "one pet" policy, so find out before you book. (Again, there may be some wiggle room here, especially if your pets are small. It never hurts to ask!)
3. Are There Extra Fees for Bringing My Pet?
If you search for "pet-friendly extended stay hotels near me," you might be delighted to find hotels that welcome pets at no extra cost.
Most of the time, though, you'll need to pay something extra to bring your fur baby along. "Extra" can mean anywhere from a few dollars to a few hundred dollars, so you'll want to be clear about the hotel's fees.
Common hotel fees for pets include:
A flat nightly fee (could vary depending on your pet's size, age, or breed)
A refundable deposit against possible damage
A one-time refundable or non-refundable cleaning fee
A non-refundable fee to cover damages and/or cleaning
Some hotels may only charge a nightly fee, while others may hit you with night fees, cleaning fees, and a deposit against damages. In general, the more luxurious the hotel brand, the more fees you might be asked to pay. The upside is that luxury brands often offer luxury perks for pets, which we'll get to in a moment.
4. Are There Specific "Pet-Friendly" Rooms on the Property?
This is one question you may not think to ask, but it's an important one. Why?
Some hotels are notorious for designating their least-desirable rooms as "pet-friendly." These could be their unused smoking rooms or the rooms closest to the noisy highway. The hotel owner may also place older, worn-out, or even damaged furniture in these rooms.
This probably isn't as much of a concern on a luxury property. But if you're looking for pet-friendly budget accommodation, make sure you know what to expect as far as your room's location and condition.
5. What Perks Do You Offer to Pets & Pet Parents?
Depending on your pet (and your preferences), this may or may not be super important to you. If you just need a cheap room for the night on a long road trip, you may not be concerned about a specialty treat menu or a doggie day spa. As long as there's a convenient grassy area nearby, you might not care about extra bells and whistles.
However, if you're looking to pamper your pooch, you'll find an array of hotels that go above and beyond for their furry guests.
For example, would you like a hotel that offers plush dog beds, dog-walking services, or gourmet menu options? Would you like to stay at a hotel that offers on-site activities for pets? Some hotels feature fun events like yappy hours for dogs (and their owners) to socialize over drinks and/or a meal.
Remember: Some hotels barely tolerate pets, while others are totally pet-centric. Be sure the hotel you choose matches your expectations for traveling with your pet.
6. What Other Rules Should I Know About?
By now, you should have a pretty clear idea about whether this hotel is a good fit or not. To help you make your final choice, ask about any other rules or policies you need to know about before you arrive.
For example, are you allowed to leave your pet alone in the room for short periods of time? If so, do they need to be confined to a crate? Are they allowed on the bed or other furniture, or do they need to stay on the ground?
It's also helpful to know where your pet is and is not allowed on the property. Chances are you won't be able to bring them into the breakfast buffet or hotel gym, but what about the lobby, pool, or other common areas?
Is there a designated "pet relief" area on the premises? If not, how far will you need to walk to find a suitable grassy area? If you're not familiar with the area, check the street view on Google Maps to see how many dog-friendly parks are around.
How to Prepare Your Pet for Travel
So, you think you've found "the one" in your search for pet-friendly hotels near me. What's next?
There's a lot you need to do to prepare your pup for the trip, especially if it's their first time staying in a hotel. Here are some expert tips to ensure everyone is prepared for the journey (and the destination).
1. Solidify Basic Commands
It goes without saying that you should only stay in a hotel with a dog that's 100% housetrained. It's also preferable if they're past their puppy biting/chewing phase.
But there's more to a safe (and disaster-free) vacation with your pup than avoiding damage in the room. Before you take your dog on vacation, you'll want to make sure they know basic commands such as:
Sit
Stay
Down
Wait
Off
Drop it
Watch me
If you need to do a refresher course before your trip, start working on these commands now. When your pup is calm and obedient, it guarantees their own safety and the safety of everyone you meet. It's also the best way to ensure your dog remains safe outdoors in parking lots, on sidewalks, and other public areas.
2. Pack Familiar Items
Aside from luxury brands, few hotels offer items like dog bowls and dog beds to their guests. Even if they do, your pup may feel more comfortable eating, drinking, and sleeping with their own items.
Save some room in your car or suitcase for your pet's food and water bowls. If you're tight on space, bring collapsable versions (these are great for eating and drinking on the road too). And if there's no space for your dog's bed, at least pack a blanket or furniture cover that already has their scent on it.
Also, be sure to pack an extra leash, as it's all too easy to lose one or leave it behind. And if your pet is used to being carried everywhere, take time to train them to walk on a leash. It may not be possible to carry them everywhere when you're on the road.
3. Bring Your Pet's Food From Home
The best way to keep your pup's digestion healthy and strong is to use the same kibble you feed at home. An abrupt change in diet could quickly upset a delicate tummy (and leave you with a big mess to clean up).
It's also a good idea to bring your pet's favorite treats and chew toys. These familiar items can help to ease travel anxiety and make the hotel room feel more like "home."
Bonus tip: If you're traveling out of state or abroad, the water at your destination may smell or taste very different than the water at home. This could be a turnoff to some pets. To ensure your dog keeps drinking and stays hydrated, consider bringing water from home or using bottled water at your destination.
You should also familiarize yourself with foods that are dangerous for your dog to eat, especially if you're traveling somewhere with more exotic offerings than you usually have at home.
4. Announce Your Dog at Check-In
Unless you're standing at the check-in counter with your Great Dane, don't assume the staff knows you're traveling with a dog. If you have them in a carrier, they might assume it's just a purse. Or perhaps you've left the dog in the car when you go to check-in.
Whatever the case, it's best to confirm that you're traveling with your pet. This ensures you get assigned to the correct room and charged the appropriate rates/fees. This also gives you the chance to fill out any required paperwork or show proof of your pet's registration or vaccinations.
5. Keep Barking to a Minimum
Just like it's unrealistic to expect a baby to be quiet 24/7, it's unlikely that your dog will be completely silent during your travels. However, unless you have one of the quietest breeds of dog, it's up to you to mitigate the level of noise coming from your hotel room.
If your dog tends to bark at external noises, ask the receptionist to place you in the quietest part of the hotel (away from elevators and ice machines, for example). Also, you might have better luck on the top floor so there's no noise from neighbors walking above you.
Another tip? Keep the TV or radio on at a comfortably low volume. The background noise is often enough to drown out other sounds and help your pup stay quiet and calm.
Pet-Friendly Hotels Near Me: Top Chains & Brands
Now that you're fully prepared to travel with your pet, let's help you find the best hotel for your adventure together.
Keep in mind that while some chains and brands usually allow pets, rules on individual properties still vary. What's allowed in one city, state, or country may differ in another, so be sure to do your homework and call the specific property for details.
With that said, here's an alphabetical list of popular brands and hotels that allow dogs.
Aloft Hotels
Aloft is a hip hotel brand with 90 pet-friendly properties across the US. They feature always-open pools, live music performances, and gorgeous modern interiors. They don't just accept dogs, either — they love dogs!
America's Best Value Inn
With close to 600 pet-friendly properties, America's Best Value Inn is the fastest-growing hotel chain in the US. As the name suggests, these hotels offer friendly service and great value for money.
Ascend Hotel Collection
If you're looking for upscale accommodation at a boutique hotel, check to see if there's an Ascend property in your destination city. These luxurious properties are designed to match the ambiance and flair of the locale, offering a nice break from your run-of-the-mill hotel rooms. Expect your pup to be pampered as much as you'll be!
Best Western International
With over 1,600 pet-friendly properties around the globe, Best Western is one of the world's largest hotel chains. You'll find over 1,000 pet-friendly hotels scattered across the US and Canada alone, meaning you're never far from these "dog-friendly hotels near me."
Canada's Best Value Inn
Speaking of our northern neighbors, Canada's Best Value Inns are sure to come up on your list of cheap pet-friendly hotels near me. They offer the same clean, comfortable accommodations and pet-friendly services as the American versions do.
Choice Hotels
This umbrella corporation encompasses 10 popular hotel brands, including Comfort Inn, Clarion Suites, Econolodge, and the Ascend Collection. They feature more than 2,500 pet-friendly hotels around the world, so be sure to add them to your search list.
Comfort Inn & Suites
Renowned for excellent service and quality at affordable prices, you can't go wrong with these pet-friendly properties. Across the US, there are over 550 Comfort Inns and 90 Comfort Suites that accept pets.
Courtyard Marriott
Designed for business travelers, Courtyard Marriott hotels have all the comfort and amenities you could want. Think ergonomic workspaces, 24-hour food service, and plenty of other perks for you and your pup to enjoy.
DoubleTree by Hilton
At least 120 DoubleTree hotels allow dogs on the property, making them a great choice for an upscale stay. You'll want to call ahead to ensure a pet-friendly room is available, and be prepared to pay a non-refundable fee for cleaning the room after you depart.
Econolodge
With almost 400 locations across the US, you're never far from a clean, affordable Econolodge. You won't find many bells and whistles here, but they'll welcome you and your pets with open arms.
Extended Stay America
Looking for somewhere to stay for more than just a weekend getaway? Consider one of Extended Stay America's 700 pet-friendly hotels for your travel needs. Bonus: Most properties allow you to bring two or more pets with the manager's approval.
Fairfield Inn
Fairfield Inns might be Marriott's most affordable brand, but don't mistake that with low-quality. You and your pet will enjoy a room that's clean, bright, and comfortable at any of their hundreds of locations nationwide.
Four Seasons
One of the world's premier luxury hotel brands welcomes dogs at no extra charge — imagine that! Book a stay at a pet-friendly Four Seasons and your pup will be pampered with a plush dog bed, Evian drinking water, and fresh-baked treats at check-in.
Holiday Inn & Holiday Inn Express
Another budget-friendly option, you'll find over 725 Holiday Inns and Holiday Inn Express hotels in the US. They're ideal for families and business travelers who don't want to leave their pets behind.
Intercontinental Hotels & Resorts
Looking for international luxury? At an Intercontinental property, you and your pet will be treated like royalty in the farthest-flung corners of the earth — from Bali to Bahrain to Bora Bora.
Kimpton Hotels
This boutique brand is renowned for providing exceptional service to its human and four-legged guests. There are no extra fees to bring your pet, and there are also no restrictions on size, weight, or breed.
La Quinta
More than 800 La Quinta properties are pet-friendly, making them an easy choice for a long road trip. Keep in mind that you'll need to be present or have your pet in a crate during housekeeping service.
Motel 6
This brand is sure to show up on any search for cheap pet-friendly hotels near me. Why? With over 1,000 locations in the US, you're guaranteed to drive by dozens of them during your travels.
Quality Inn
This brand offers 300+ pet-friendly hotels in some of America's most dog-friendly cities. They're a sure bet with over 60 years of experience providing high-quality yet affordable service.
Red Roof Inn
"Pets stay free" is one of this brand's most popular tagines, making them a great choice for traveling with your pet. More than 550 locations are waiting to greet you, and many properties also welcome more than one pet.
Springhill Suites
Need some extra space to stretch out with your pup? Book your stay at a pet-friendly Springhill Suites property, with rooms that are 25% larger than similarly priced hotels.
Westin Hotels & Resorts
The Westin brand is all about enjoyment and pampering — and that goes for your pets too! You'll love being lazy together and enjoying fun perks like extended breakfast hours and late checkout.
Find a Pet-Friendly Hotel & Have a Wonderful Vacation
Well, there you have it. From cheap pet-friendly hotels near me to luxury hotels (and everything in between), it's easier than ever to take your furry family members on vacation.
Start with a search for "dog-friendly hotels near me." Read the hotel's policies carefully or, better yet, call to confirm the details. Be sure your pup has everything they need to travel comfortably.
Most importantly, bookmark this article and refer back to it as you plan your next vacation. That way, you, your family, and your pet will have a safe, relaxing getaway!
Looking for more great advice about all things pet-related? Keep browsing our blog for expert tips on feeding, training, traveling, and much more.
While on your vacation you might want to take a pet-friendly Uber.